Guided Trips and Instruction
Ask us about our flyfishing trips to Yellowstone
and all of Montana!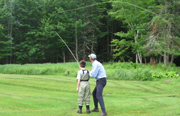 Learn To Fly Fish
Explore The sport of Flyfishing with the hands-on expertise of a Maine Guide and Flyfishing Instructor by your side. Access expert instruction and productive water all in the same day in this introductory course. The course begins with casting lessons and ends with on the water fishing techniques.
---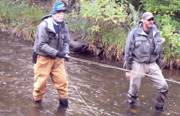 Wading Flyfishing Trip
Imagine the ultimate Maine river experience: Covering productive water with your guide at your own pace. Let us help you unlock the secrets to some wonderful water while introducing you to new techniques and fine tuning older ones.
---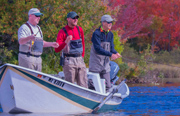 Drift Boat Trips
Float one of our many great rivers in a modern Drift Boat while fishing with a Maine Guide at the oars. Drift Boats are the best way to explore Maine's rivers without having to take a step into the water. Cover miles of water in a day, have a streamside lunch, and finally see whats around that "next bend in the river" in comfort.
All Equipment (Rods, Reels, Waders, and Flys) are provided to our guests without any additional charge.